Super People Flies Towards Early Access This October
New FPS battle royale game SUPER PEOPLE has officially completed all testing ahead of its official service launch. Today it was announced by developer Wonder People that after the game's final beta test, taking place from August 17th-31st, the game will be diving into Early Access on October 11th.
SUPER PEOPLE's final beta attracted over one million players worldwide with 240,000 daily active users logging in. Following the success of its global CBT, SUPER PEOPLE's final beta ranked 1st in Trending Games (Popular New Releases) on Steam and entered the top 20 most played Steam games. Most remarkably, it is the only game still in the beta testing phase to rank in the top 25 peak concurrent viewers for August on the global streaming platform Twitch.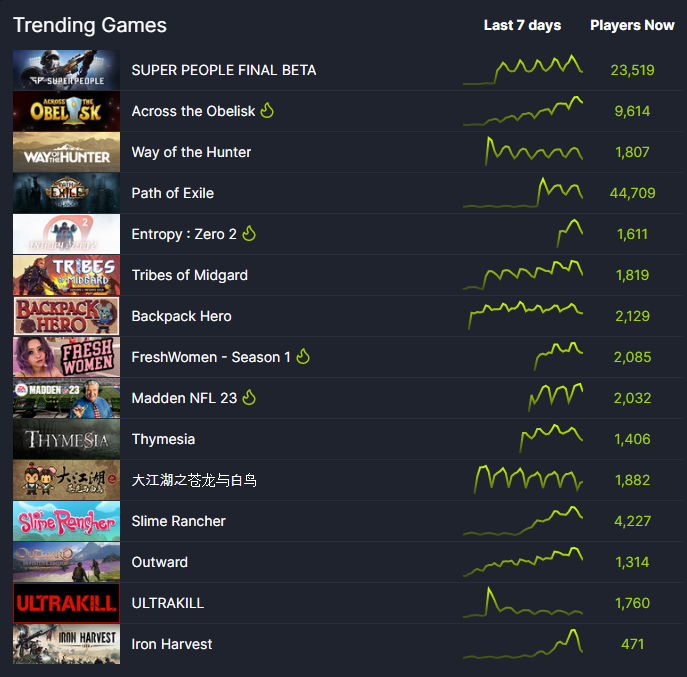 Steam Trending Games (Source: SteamDB)
SUPER PEOPLE's final beta also saw the first Super Tournaments, held across 5 regional servers, where all players could participate to receive cash prizes. Streamers such as Shroud, who has 10 million followers, and DrDisrepect with over 4 million subscribers, were among many of the content creators to jump into the game during those two weeks including global influencers from Korea, Japan, Thailand and more. Streamers were excited to experience the unique character abilities, skills and crafting systems that differentiate SUPER PEOPLE from others in the battle royale genre.
After the final beta, a developer livestream took place with Director Seong-Gon Park, Business Team Leader Seoung-Chul Ji, and E-sports Team Leader Sun-ho Lee, discussing their thoughts about preparing for the final beta and changes that will be made for early access. It was also announced that a new class, Demolisher, would be added to the game. This powerful class has various unique abilities such as its grenade-firing shoulder launcher and an explosive RC car. It destroys everything foolish enough to stand in its path!
With many more updates and changes to come, SUPER PEOPLE is set to launch into Early Access on October 11th. For more details about the final beta test and early access, check out SUPER PEOPLE's official website at http://geegee.net.
SUPER PEOPLE Social Media
No olvides seguirnos en nuestras redes sociales:
Página de Facebook: C506
Grupo de Facebook: C506-Comunidad Geek
Twitter: C506 Latinoamérica
Instagram: C506 Latinoamérica
También puedes seguirnos en nuestro Canal de YouTube.
Chef de C506, Marvel y DC ♥️